The Venue – JULY 1 – 2
The event will be hosted at the Saint Petersburg hotel
How to get here:
Saint Petersburg
Pirogovskaya Embankment, 5/2
Participation upon registration only – please mark in registration form.
The schedule
10.00am -Departure from St-Petersburg (Prof. Popov, 14, main building of The State Chemical Pharmaceutical University)
11.30am — arrival to the plantation
12:00-14:00 — guided tour on the plantation
14:00-15:00 — lunch
15:30 — departure to St-Petersburg
17:00 (approximately) — arrival to the city
TRAVEL AND TRANSPORT INFORMATION
St-Petersburg is within easy reach by any transport medium
Airport
Arriving at St-Petersburg International Airport (Pulkovo), city buses number 39, 39Ex and Minivan Taxi number K39 connect the airport with the metro station «Moskovskaja»
Timing schedules and further details: Pulkovo Airoport
Railways
St. Petersburg has a direct railway communication with many European and Russian cities. The Moscowsky, Vitebsky, Finlandsky and Ladozhsky railway stations are paired by a line of the metro.
Timing schedules and further details Russian railways
Public transport
Please visit St. Petersburg public transport portal for details
Taxis
Tips and service are included in the price shown on the meter. There are plenty of taxi companies serving in Saint-Petersburg.
WEATHER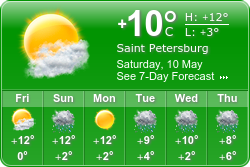 ACCOMMODATION
The PHYTOPHARM 2019-delegates are kindly advised to make their hotel reservations in due time to meet the reservation deadlines.
For hotel reservation please visit St. Petersburg Official City Guide web-site.
The Organizing Committee of Congress is not responsible for service provided by hotels.
VISA
Participants requiring an entry visa for the Russia are strongly advised to make their application in their home Country at least two months prior to the intended travel date. Please refer direct to your hotel in St-Petersburg or to your travel agency for visas support.
There is an option: 72 visa free hours in St. Petersburg. Please visit official city web-site for future information.